April 27, 2017
Downtown Marriott Hotel, Calgary
The 2017 Calgary Benefits Summit
Bouncing Back
After two years of recession, economists are predicting a modest return to growth in Alberta in 2017. With recovery on the horizon, companies still face fiscal constraints that can create challenges for their benefits plans. What can employers do to support growth? How can they re-energize employees and restore company morale? This conference will focus on bouncing back from challenging times.
This summit will include insightful and educational presentations that will provide delegates with the information they need to improve their workforce and reduce costs, create solutions and manage risks in their benefits and wellness plans.
This is a half-day conference. The Calgary Benefits Summit will cost $99.00 plus tax.
Who Should Attend?
All employers responsible for benefits plans, as well as brokers and benefits consultants, are welcome to attend.
Join the conversation! @BenCanMag #CalBen17
Calgary Benefits Summit
April 27, 2017
Downtown Marriott Hotel, Calgary


7:10 - 8:05 a.m.
Breakfast and Registration


8:05 - 8:10 a.m.
Opening Remarks


8:10 - 8:40 a.m.
Alberta's Economics: What's Happening and What's Coming
After two years of recession, economists are predicting a modest return to growth in Alberta in 2017. With recovery on the horizon, companies still face fiscal constraints that can create challenges for their benefits plans. This session will provide up-to-date data, illustrating trends in Alberta's economic growth.

Speaker:
Amber Ruddy, director of provincial affairs, Canadian Federation of Independent Business

8:40 - 9:10 a.m.
Lack of sleep – anything but a big yawn!
40% of adults report at least one symptom of insomnia three times a week. Even more surprising, most people don't even know they have a sleep disorder! The cost to companies in lost productivity is exorbitant. How can managers address this problem in their workplaces? This presentation paints a fascinating picture of workers' sleep, as it presents the findings of a study conducted by LEVIA as well as reviews existing documentation. The study aims to understand the link between the quality and quantity of employees' sleep and their productivity. It analyzes the impacts of sleep on absenteeism and presenteeism, and then introduces some measures being used in workplaces to improve the quality of employees' sleep.

Speakers:
Josée Dixon, senior vice-president of group and business insurance, Desjardins Insurance
Bradley Smith, president and founder, HALEO Preventive Health Solutions Inc.

9:10 - 9:40 a.m.
A Collaborative Approach to Disability Management
Insurance providers and businesses both have a role to play in helping employees return to work in a safe and sustainable manner. In fact, offering the right support at the right time can mean the difference between a timely, successful return to work and a potentially prolonged absence. This presentation will discuss the steps businesses and insurance providers can take to foster more accommodating returns to work that result in less costs, earlier recoveries and ultimately, a healthier, more productive workforce.

Speaker:
Dr. Arif Bhimji, primary medical consultant, Alberta Blue Cross
 
9:40 - 10:10 a.m.
The Impact on Workplace Productivity of Biologic Switching Policies for Stable Patients
Inflammatory diseases, such as Crohn's disease and ulcerative colitis are financially burdensome on both employers and their employees. This session will highlight how biologics provide significant value for payers and patients, and the consequences and impact on workplace productivity of biologic switching policies for stable patients.

Speaker:
Dr. Cynthia Seow, assistant professor, the Cumming School of Medicine, University of Calgary

(This session has been made possible by the Canadian Originator Biologics Coalition)
10:10 - 10:40 a.m.
Networking Break


10:40 - 11:10 a.m.
Drug Plan Benefits Facts: Current Trends and Spends
This session will draw upon a number of new studies to provide insight and shed light on the trends in drug spending and private drug plan benefits. It will take a closer look at the overall Canadian market, as well as provide a glimpse into future private market spends while clarifying today's cost drivers. Having an evidence-based view of the facts surrounding drug plan costs and benefits will help all stakeholders make better choices for the future health of the Canadians.

Speaker:
Joe Farago, executive director of health-care innovation, Innovative Medicines Canada


11:10 - 11:40 a.m.
How to Address Complex Return to Work
Complex return to work situations often create difficulties in accommodations, return to work planning and modified duties. This topic is critical since duration has a direct Impact on return to work rates. This presentation will look at three main topics; why do we need to promote accommodation? What is considered a complex return to work? And what is best practices for return to work planning.

Speaker:
Judith Plotkin, vice president of growth and strategy, ReedGroup Canada

11:40 a.m. - 12:10 p.m.
Quarterbacking Drug Plan Management – How Pharmacy Can Help
Plan sponsors continue to face rising drug costs and increasingly have to make choices to support the sustainability of their drug plans. The reality is that most drug coverage issues are identified and often resolved at the pharmacy. This session will discuss drug plan sustainability challenges and how pharmacy has the opportunity to be part of the solution.

Speaker:
Mark Rolnick, vice-president, payor partnerships and plan sponsor innovation, Shoppers Drug Mart

12:10 p.m.
Closing Remarks

Calgary Benefits Summit Speakers
KEYNOTE SPEAKERS

Amber Ruddy



Amber Ruddy is the director of provincial affairs with Canadian Federation of Independent Business (CFIB). She advocates on behalf of CFIB members in Alberta and conducts research in the government finance, labour policy, regulatory burden and municipal affairs areas. Ruddy's experience includes working as an intern for a federal cabinet minister, as a legislative assistant for an Ontario member of provincial parliament and as the national government relations advisor for the Juvenile Diabetes Research Foundation. She also served as a Junior Team Canada delegate on an economic trade mission to China and Hong Kong in 2006. Ruddy holds a bachelor of arts degree from the University of Western Ontario.
---

SESSION SPEAKERS
(In alphabetical order)

Dr. Arif Bhimji
Dr. Arif Bhimji is the primary medical consultant at Alberta Blue Cross, where he provides insight and medical guidance regarding short-term and long-term disability claims. Also serving as the medical director for Magna International, Dr. Bhimji's primary role is in managing health and wellness programs and supporting occupational health and safety initiatives. He also provides consultation on pharmaceutical and major medical and disability programs across North America. He is a specialist in family medicine and holds additional postgraduate qualifications in occupational medicine and dermatology. During his 24 years as an occupational physician, Dr. Bhimji has participated in key studies on disability and worker's compensation in Canada, has lectured widely and has published articles in health journals, as well as has appeared in national media.
---

Josée Dixon
Josée Dixon has been the senior vice-president of group and business insurance for Desjardins Group since September 2014. She has more than 25 years of experience in the group insurance industry. Dixon has been with Desjardins Group since July 2013, holding the position of vice-president of business development for group and business insurance prior to her current role.As senior vice-president of group and business insurance, Dixon contributes to the development and expansion of Desjardins' group and business insurance line of business across Canada. Dixon holds a bachelor's degree in commerce, with a specialization in marketing and finance. She is also the recipient of a number of certifications and awards in the group insurance industry.
.
---
Joe Farago
Joe Farago joined the Innovative Medicines Canada association as the executive director of healthcare innovation in January 2016. In this role, he is responsible for the private payer market and the national innovation strategy. Farago is leading the pharmaceutical sectors' efforts in taking a more proactive approach to addressing today's issues in order to ensure that tomorrow's workforces in Canada have strong private market coverage best suited to meeting their needs. Farago has been mobilizing resources to focus on bringing discussions and solutions to the stakeholder table, where the overall objective is to ensure the sustainability of the private market insurance in Canada. Over the last 27 years, Farago has acquired a vast knowledge of the Canadian pharmaceutical and specialty biopharmaceutical markets. He has a wide range of experience in access, government affairs, sales, marketing and operations. Farago has had the opportunity to be part of establishing two organizations in the Canadian market from the ground up, and he has a strong understanding of market access success and organizational development. He started his pharmaceutical career with Servier Canada Inc. in 1989, until he entered the plasma protein specialty market with CSL Limited in 2007, where he was instrumental in establishing and building the Canadian organization to a market leader. Farago graduated from Carleton University in 1989 with a bachelor of science degree. He currently lives in Ottawa, where he and his wife raise their three children. He has been very actively involved in the hockey community and was president of his association for seven years and continues to be an avid Ottawa Senators fan.
---
Judith Plotkin
Judith Plotkin is the vice president of growth and strategy for ReedGroup Canada. In this role, she is tasked with growing the business and developing strategic initiatives for the Canadian market. Plotkin's high-level industry insight regarding return to work, mental illness, integrated absence and health and productivity is frequently published and keeps her in demand for media consultations and speaking engagements. Educated in social work, Plotkin received her bachelor of social work degree from Ryerson University and her master of social work degree from the University of Toronto.
---
Mark Rolnick
Mark Rolnick is the vice-president of payor partnerships and plan sponsor innovation for Shoppers Drug Mart. He is responsible for leading the strategy and development of innovative sustainable solutions to help employers manage their drug plans and improve the health and wellness of their employees. Rolnick and his team work in partnership with insurance carriers, benefits consultants and advisors to implement and execute these initiatives. Prior joining Shoppers Drug Mart, Rolnick spent over five years at Sun Life Financial in leadership roles in the group benefits product development area with a portfolio that included pharmaceuticals, disability and health and wellness. He also spent over 11 years at AstraZeneca, holding a number of roles with increasing responsibility, including market access, sales, marketing, strategic planning and business development. Rolnick practiced pharmacy for many years, and also has a master of science in health economics and a master of business administration.
---
Dr. Cynthia Seow
Dr. Cynthia Seow has been an assistant professor in the Cumming School of Medicine at the University of Calgary since 2009. She completed medical school, internal medicine and gastroenterology training in Australia, then undertook a two-year clinical research fellowship concurrent with a master degree in clinical epidemiology at the University of Toronto. Dr. Seow has a clinical practice in gastroenterology with 50% protected research time. Her primary area of focus is in inflammatory bowel disease (Crohn's disease and ulcerative colitis). She has an interest in optimizing therapies for the treatment of these disorders, particularly, the use of biologic therapies. Dr. Seow has conducted and published research on the utility of therapeutic drug monitoring to optimize dosing of biologic therapies to obtain the best clinical outcomes while minimizing adverse effects. More recently, she has been involved in the areas of biosimilars and clinical outcomes in inflammatory bowel disease. Dr. Seow is on the steering committee for SCOPE-IBD (the Scientific Consortium for Optimizing Pharmaco-Epidemiologic data in Inflammatory Bowel Disease). Her other area of interest is in pregnant women with inflammatory bowel disease, and she leads the University of Calgary inflammatory bowel disease pregnancy clinic with its associated research registry and biorepository and is the research chair of MORe CaRe-IBD (Maternofetal Outcomes Research, a Canadian Registry in inflammatory bowel disease). Dr. Seow has been an invited speaker at both international and national gastroenterology meetings.

---
Bradley Smith
Bradley Smith is the founder of HALEO Preventive Health Solutions Inc. This company aims to develop innovative and accessible preventive health solutions, helping employers improve organizational health and performance by increasing employee access to treatment for sleep disorders. Before launching this new venture in Montreal in 2015, Smith worked for over 10 years in Canada and in France as a marketing director for leading pharmaceutical and cosmetics brands. Smith holds a master of business administration degree from the Rotman School of Management at the University of Toronto.
For more information on the speakers, please contact
Sara Ametrano
, Conference Editor,
Benefits Canada
Event Details
Accommodation
Calgary Marriott Downtown Hotel
The luxury Calgary Marriott Downtown Hotel features modern accommodations, exceptional service, and a prime location in the heart of the city. Our elegant guest rooms and suites successfully cater to both business and leisure travelers, with plush bedding, 37-inch flat-screen TVs, and Marriott's exclusive Plug-In panel technology. Additional amenities include high-speed Internet access and luxury bathroom amenities. Enjoy sweeping views of downtown Calgary and the Canadian Rockies throughout the hotel, thanks to natural lighting from floor-to-ceiling windows. Start your morning with breakfast in our onsite restaurant, or grab a cup of Starbucks® coffee to go. In the evening, unwind at our vibrant cocktail lounge. Planning an event in Calgary? We offer stylish and flexible event space and full catering services. And our convenient hotel location places Calgary's finest restaurants and shopping just steps from our door. Style and substance come together beautifully at the Calgary Marriott Downtown Hotel.


110 9th Avenue SE Calgary Alberta T2G 5A6 Canada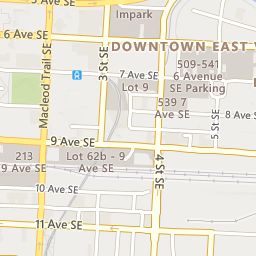 (Click on link for map of the area)